BASF's new fungicide Revylution® to help improve yields for wheat farmers

The innovative fungicide provides targeted control of speckled leaf blotch, including strains that are less susceptible to other Group 3 fungicides

Revylution contains first isopropanol-azole chemistry for disease control engineered with a flexible molecular structure
BASF's new Group 3 fungicide Revylution has been registered for use in wheat crops. Revylution is expected to become grower's first-choice fungicide in preventing and controlling speckled leaf blotch (Septoria tritici blotch) and leaf rust in wheat.

Revylution contains Revysol®, the first isopropanol-azole active ingredient that delivers a uniquely flexible molecule that can adapt to mutations in the target pathogens and control strains of disease that are less susceptible to other Group 3 products.
"The introduction of Revylution is big step forward in cereal disease control for New Zealand wheat farmers, allowing them to target key foliar diseases in wheat with greater confidence," said Grant Hagerty, Technical Development Manager, BASF Agricultural Solutions New Zealand.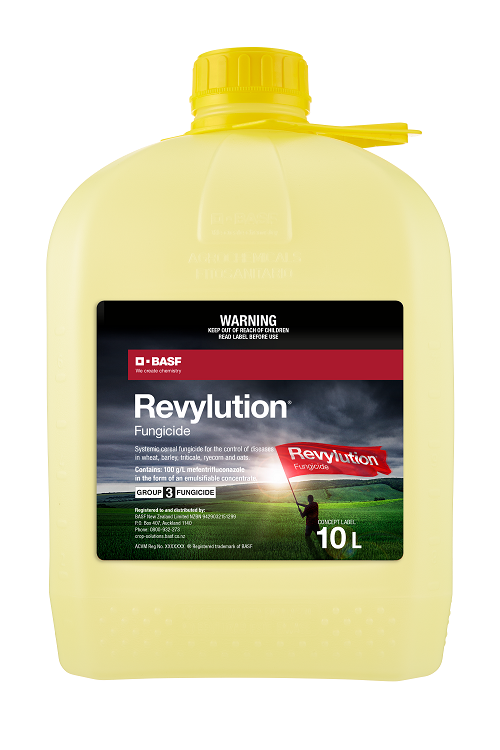 "Global wheat demands are at all-time high, and farmers need support in protecting their crops from fungal blights. Revylution will provide superior and more robust control of speckled leaf blotch and leaf rust than current industry standards. Its single-active formulation will simplify grower rotations making disease control in wheat more efficient and economical," added Grant.

Revylution is registered to control leaf rust, speckled leaf blotch and stripe rust in wheat. It is highly effective when used on its own or can be mixed with other fungicides to extend disease coverage.

"Additionally, its rapid foliar uptake allows it to perform extremely well in adverse weather conditions, offering a broader application window while still providing weeks of protection," he continued.

Revylution is powered by the same next-generation Group 3 fungicide that has already shown its effectiveness as part of a co-formulation in BASF's Revystar®, which was launched in 2020. The dual-active formulation of Revystar provides optimal control of Ramularia in barley allowing both Revylution and Revystar to play complementary roles in grain growers' crop protection programmes.

Revylution is the latest in a series of BASF crop protection innovations that is set to continue with several further product launches over the next few years.

Revylution – ACVM Approval code P009923